List view
List view control gives the view of an array of items or a list of items in graphical style. Items in a list view can contains different graphical icons, test attributes etc,
Here is an example of list of directories in C drive in text mode in DOS prompt.

C:\>dir /b
altera
ASL
Boostup Browser
Dev-Cpp
ESD
etc
inetpub
Intel
Office
OpenTFTPServer
PerfLogs
PHP
Program Files
Program Files (x86)
Python27
Tcl
Users
vcredist.bmp
webinstall.log
WinAVR-20100110
Windows
xampp

This directory list can be represented in list view.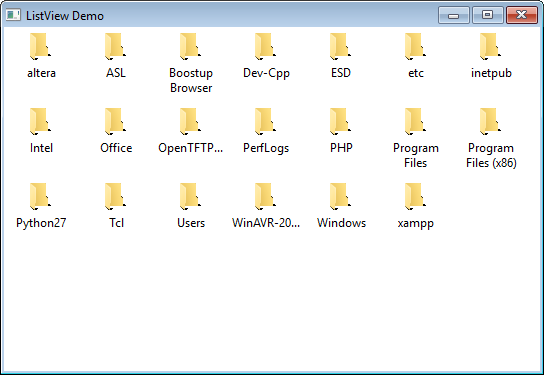 Tree View
Tree controls give the hiarcical tree relationship of the items. It will have a root item at the top and one or more child items at the lower level.
Here is an example of tree of directories in C drive in text mode in DOS prompt.

Folder PATH listing
Volume serial number is 00000058 B401:FA98
C:.
|
+---altera
+---ASL
+---Boostup Browser
+---Dev-Cpp
+---ESD
+---etc
|   \---udev
|       +---CWinApp
|       |   \---CWinThread
|       |       \---CCmdTarget
|       |           \---CObject
|       \---rules.d
+---inetpub
|   +---custerr
|   |   \---en-US
|   +---history
|   +---logs
|   +---temp
|   |   +---appPools
|   |   +---ASP Compiled Templates
|   |   \---IIS Temporary Compressed Files
|   \---wwwroot
|       |   ISAPIDLL.dll
|       |   
|       \---aspnet_client
|           \---system_web
|               +---2_0_50727
|               \---4_0_30319

This directory tree can be represented in tree view.
You have viewed 1 page out of 109. Your VC++ learning is 0.00% complete. Login to check your learning progress.
Similar topics related to this section

Programming Windows, Fifth Edition (Developer Reference)


Programming Applications for Microsoft Windows (Microsoft Programming Series)


Programming Windows with MFC, Second Edition


Visual C++ Programming


Programming Microsoft Visual C++, Fifth Edition

| | | |
| --- | --- | --- |
| #1 webmaster Thu 01 May/2014 18:44:59(GMT) | 0 | 0 |
Dear Users,

We are pleased to inform you that a forum/blog has been incorporated with www.mybestnotes.co.in. You are welcomed to add your comments, requests, codes, solutions and feedback to it. Please login(if already a member) or signup(for free) to avail to this facility.

Regards,
Webmaster
Your message goes here: