Marshalling and transport
DCOM client and server can be in same host or in a different host on a network. Client and server do not talk directly to each other like In-Proc COM DLL server and client application. They are decoupled by an abstruction layer.
MIDL compiler generates the proxy and stub scheleton files which are the part of this abstruction layer. Marshalling and DCOM framework components helps in exchanging parameters between client and server with the help of proxy/stub layer. Local procedure call or LPC mechanism is used for the DCOM in same host. Remote procedure call or RPC mechanism is used for the DCOM where client and server are in different network host. Stub or proxy interface deals with the calls and parameter exchange whereas LPC or RPC transport layer deals with the transport of the parameters over the network in byte streams.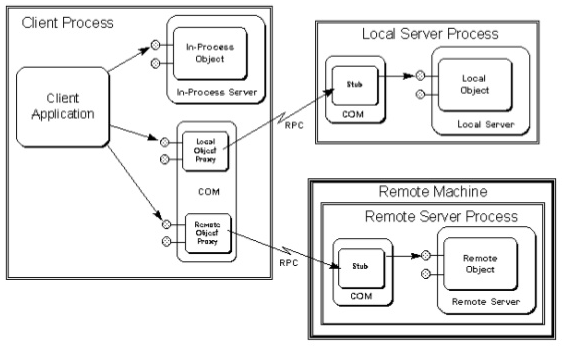 Proxy Interface
Client is coupled with the proxy interface and passes parameters to proxy. Proxy interface talks to Marshalling and DCOM framework. Now these parameters are serialize to network fraindly stream and sent to the server side.
Stub Interface
DCOM Server is coupled with stub interface. The parameters from client reached to the DCOM framework of the server side through LPC or RPC. Then it de-serialized to stub interface and reached to server. Server returns the call and parameters to stub. Stub hands over the parameters to DCOM framework. The return parameters again serialized and travels back to client side. Now they reach the client side and de-serialized to proxy and then returns to client.
You have viewed 1 page out of 66. Your COM/DCOM learning is 0.00% complete. Login to check your learning progress.
Similar topics related to this section

COM DCOM Interview Questions and Answers :: ALL Interview .com


COM DCOM - COM DCOM Interview Questions


COM interview questions | TechInterviews


COM Interview Questions - CodeProject


Com Dcom Interview Questions - Com and Dcom in Asp Net


ATL Interview Questions and Answers :: ALL Interview .com


ActiveX Interview Questions and Answers :: ALL Interview .com

| | | |
| --- | --- | --- |
| #1 webmaster Tue 29 Apr/2014 04:15:18(GMT) | 0 | 0 |
Dear Users,

We are pleased to inform you that a forum/blog has been incorporated with www.mybestnotes.co.in. You are welcomed to add your comments, requests, codes, solutions and feedback to it. Please login(if already a member) or signup(for free) to avail to this facility.

Regards,
Webmaster
Your message goes here: